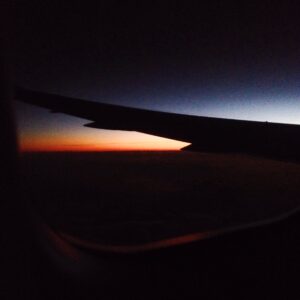 Travelling is my least favourite part of a trip. Maybe it's the jet lag, maybe it's the fact that it takes so long for my hearing to return to normal after being bewildered by the constant pressurizing and depressurizing, or perhaps it's navigating a new and unfamiliar geography. Whatever it is, we knew that this trip would inevitably have a somewhat bumpy beginning, so keeping that in mind we decided to give ourselves a three day buffer (of sorts) in London, to allow some time for acclimatizing before heading to Spain.
Still, our trip from the airport to our hotel in Regent's Park was just a blur. At some point, I recall waiting twenty minutes at a chain café for two americano's (we joked about pretending to be the typical, boisterous American tourist insisting on just a "medium coffee"); I vaguely remember shuffled bleary-eyed and exhausted past the changing of the guard at Buckingham palace (the tops of our weary heads made a cameo in half a hundred tourists' cellphone videos); I recollect rather artfully weaving and dodging through crowds of people at Piccadilly Circus, all of whom seemed much more confident in their walking skills than we were. Somehow, we finally made it to the hotel, where immediately— aggressively, even— we poured ourselves into our beds for a nap. That merciful reprieve, combined with a hot shower, gave us the courage to venture out again in search of dinner.
We walked a short distance through the lively borough of Camden, where we had dinner and a beer or two at the Colonel Fawcett, a well-rated, hip pub with surprisingly good food (if you must know, we split some crispy fried fish, James had a juicy burger and some chips, and I polished off a smoky chunk of ham with potatoes and cipollini onions in a light broth).
After meandering our way back to the hotel once again, (we may have stopped at a pub or two along the way…), we slid once again into the sweet embrace of sleep.
Somehow, we dragged ourselves out of bed this morning, and now, sitting in a Starbucks, wrestling with the spotty wifi, we're currently planning out our day— tomorrow we fly out to Barcelona, so we think we'll go see the sights around Parliament and Westminster Cathedral today, do some more exploring, and top things off with a steak lunch at Harrods of all places.