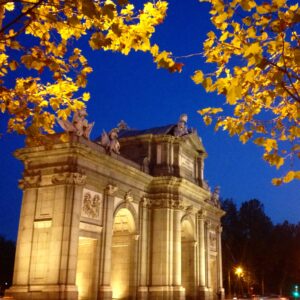 We had decided to take the high-speed train from sunny Valencia to Madrid, but when we got to the train station we were shocked to find that it was far more expensive than we had figured. Without any other options however, we grit our teeth, bought our tickets, and boarded the train. It turned out to be a really fun ride, and whizzing to the heart of Spain at over 300 km/h we got to watch the orange plantations and red clay fields fly by. In no more than two hours we were walking out of Madrid's train station, and found ourselves confronted by a magnificent sight. Truly a world-class city, Madrid is gorgeous— a bustling hub of business and culture, with a beautiful mix of old and new architecture, and all the energy of a modern metropolis dressed up in the grandeur of a London or Paris. Walking to our hotel, we cut through a large park that was immaculately maintained, filled with beautiful sculptures, gardens, and paths, and any disappointment of leaving Valencia was quickly replaced by a sense of awe.
Our hotel was modern and newly refurbished, and like everywhere we went in the city, entirely comfortable, clean, and safe. Very happy with the state of things, we deposited our stuff in the room, then went for a walk in search of one of the city's casinos; on our way, our eyes grew wider and wider as we passed beautiful building after beautiful building, chic restaurants, and well manicured boulevards. Unfortunately we were turned away from the first casino because we wearing shorts, but we found another nearby that would accept us as we were, and headed in to take a look. It was housed in a beautiful old building, but the casino itself was fairly underwhelming, poorly laid-out and mostly devoted to slot machines and electronic roulette. Slightly disappointed, we headed back out into the city, and just walked around again for awhile, admiring our surroundings.
That evening we thought we'd try something a little different for dinner. We decided to go for Indian food, at a local place that had great reviews. The meal was delicious and filling, a nice change of pace from the more traditional Spanish food that was our usual fare. We headed back to the hotel happy and completely stuffed, and excited to make our plan for the next day. Although that plan originally had us checking out the Prado museum, we decided based on the forecast for the next couple days to spend the sunny day walking around the city, and to reserve the art museum for when it was supposed to rain.
The next morning we grabbed an empanada and a coffee as a late breakfast, then set off into the centre of town, in search of a few destinations I had picked out (yes, they're all food related, could you guess?). We took our time walking, and leisurely strolled over to the famous Chocolateria San Gines, which specializes in churros dipped in thick hot chocolate. Once we got there it took us a sec to figure out how to order, but after watching some very giggly young women— the large packs and shorts they were wearing gave them away as fellow tourists— we figured out we had to pay first, then sit at a table and wait for a waiter to snatch up our ticket in exchange for the food. I won't go into too much detail, but the churros were fresh and crispy, and the chocolate was quite possibly the best and most luxurious I've ever had— it was definitely a worthwhile excursion. After we had scarfed down all our food, we decided to cross another specialty item off our list— jamón iberico, the most famous and most prized of Spanish cured meats. In order to make things extra auspicious, I decided I'd like to get some from the oldest jamóneria (or as James was so fond of calling it, "jam-bone-eryah") in town. Of course we managed to lose track of the time, so when we went by the shop it was closed for siesta until 5pm; in the meantime, we found a local taverna with outdoor tables and each had a glass of the house vermouth while we waited. When 5pm finally arrived, we marched over to the store, and after fumbling with my rudimentary Spanish (for which I was good-naturedly chastised by the proprietor) I managed to convey my carefully rehearsed order—"100g Jamón ibérico de bellota, por favor"— and then James and I got to watch as the man, wielding a long, thin knife, lovingly carved thin strips off the leg of jamón and placed them delicately onto a paper wrapper. For those wondering, the reason this ham is so unique is that the diet of the pig from which it comes (the free-ranging black Iberian pig, which eats only acorns) gives the meat a unique savoury nuttiness, which we found made it taste quite similar to an aged parmesan cheese. Once we had our meat all sliced, we headed over to the beautiful Royal Palace gardens to eat it; it was absolutely delicious, but because the meat was sliced so thinly, and because we got a bit excited, we each ate something like 10 pieces, which in retrospect was way too much of a good thing. After our overindulgence all we could do was head back to the hotel, and relax with some TV before bed.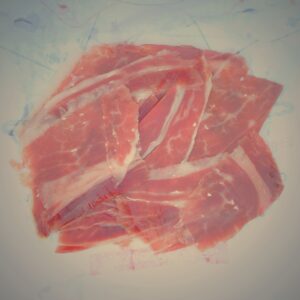 At this point I feel compelled to highlight what was perhaps the most iconic experience of our time in Madrid— and yes, as you probably guessed it does involve food, but it also involves beer as well (for a change). It actually all started on our flight out of Toronto, when a fellow passenger with whom we had been chatting recommended a particular chain of restaurants in Madrid, called 100 Montaditos. Unsure of what Montaditos were, not to mention why there needed to be 100 of them, we dutifully stored the information away and carried on with our trip. Before we got to Madrid however, we picked up a few more recommendations for the place from other sources, so by the time we arrived in the city, we made checking it out our top priority. Turns out that Montaditos are little sandwiches, of which the restaurant sells 100 different variations, all for between 1 and 2.5 euros each; the sandwiches are fairly basic, but they're cheap, made on the spot, and they taste pretty good. The real allure of these restaurants, however, is that they sell beer for the cheapest you'll find almost anywhere (1.5 euros a pint!), so they are almost always packed with students and travellers on a budget. We found ourselves heading for the nearest 100 Montaditos over and over again, either when we had time to kill (mostly because we absolutely couldn't get the hang of Spanish dinner hours), or when we wanted a rest from walking (or were simply thirsty). Almost every time, we would remark to one another how great a concept these Montaditos were, and how much we wished we had something like it back home! So if there are any intrepid entrepreneurs out there looking for a hot new restaurant tip….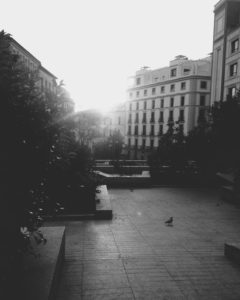 Madrid is a big, beautiful city with far, far too much to see and do in three days' time. During our time there, we did a ton of walking, a lot of marvelling at the sights, saw a couple casinos and did plenty of eating as well. Our full last day did deliver rain as promised— our only day of rain on the trip, it would turn out— so although we got positively soaked getting there, we were glad to spend it checking out the art at the Prado museum. While James and I weren't particularly moved by most of the Renaissance and Medieval works, there were a few highlights, such as Hieronymus Bosch's Garden of Earthly Delights, and several of Goya's paintings, that were well worth seeing in person. We finished off the day with long walk in search of dinner (we settled on a burger place that, while tasty, didn't quite live up to our expectations of a classic North American-style burger), then packed up and got ready to head to the airport for our flight to Lisbon the next morning.