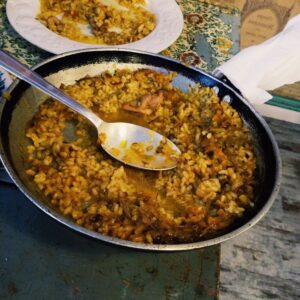 The next day we stayed closer to home, opting to do some laundry and a few other things, before venturing back to Barcelona for our late dinner. We ate at Tatau l'Antiquari, a little restaurant that James had found on the internet, which was located down one of the ubiquitous alleyways near Barcelona's Sants station. Despite deliberately arriving almost an hour later than we had the night before, the restaurant was still empty when we walked in, but the friendly staff soon made us feel welcome.
Because we were the only customers, our food came out rather quickly, and we had barely started sipping our wine (a local Catalonian vintage from north of Barcelona) when a parade of dishes made their way out of the kitchen. We started off with a plate of empanadas stuffed with banana and brie, served alongside a homemade strawberry jam (good for breakfast, if a bit confusing to start off a 9pm dinner meal), then we enjoyed a bowl of steamed mussels, simply presented but delicious nonetheless. Our first main dish was a succulent, buttery piece of hake served with spinach leaves and ripe cherry tomatoes, and topped with an insanely decadent squid ink aioli; needless to say we were sold on the place by that dish alone. Our other main, highly recommended by online reviews, was an inauspicious-looking pan of "grandma's rice," cooked with chicken thighs in a brown sauce. Initially skeptical of such a plain dish, after two or three bites, I suddenly understood why Spanish rice dishes are so widely admired. Flavourful and hearty without being heavy or overly salted, the gravy proved to be the perfect accompaniment to the perfectly chewy rice, which really was the star of the dish— even after the pan was finished, I endured James' scorn in order to scoop up every last little remaining grain. Although I think we both could have eaten another whole pan of the stuff, after finishing the rice we forced ourselves to move on to dessert— James had a rich dulce de leche tart, while I had a dense and delicious apple cake.
We finished our wine and enjoyed the afterglow of a good meal, but not wanting to call it a night just yet, we thanked the staff and headed off in search of a drink. This we found in a busy bar, down yet another side street, that to our bemusement had been garishly decorated with fake cobwebs and tombstones for Halloween. Over a couple Belgian brews, James proceeded to educate me on the finer points of Canadian politics at the time of Confederation, and later on the Mike Harris "Common Sense Revolution" (I can imagine that any anglophones in that bar must have found it strange to see two people so animatedly discussing such topics), and then we paid our tab and caught the last train of the night back to Castelldefels.
The next morning, we awoke early (well, earlier than usual), packed our things, and headed off to the train station, Valencia-bound.