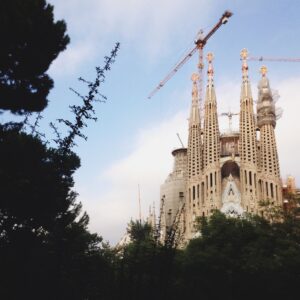 The flight into Barcelona gave us some incredible aerial views of Spain, and our final descent into the city, sweeping over the hills to the west of the city and out into the bay, before cutting back in to the airport, was a magnificent introduction to the city.
The change in scenery was dramatic and, feeling the heat of the sun on our faces, very welcome after the cool grey of London. Opting not to try and figure out the transit system (we were still pretty out of it from the night before), we grabbed a cab to our hotel in the suburb of Castelldefels. After checking in, we set off in search of some adaptors for our phones (having left my universal adaptor at the hotel in London), and grabbed a bite to eat and some groceries from a local mall.
We took an easy night in, planning for the next day, taking care of some business, and laying low to recuperate from our London adventures. The next morning, after a light breakfast at the hotel, we hopped on a train into Barcelona, and had a blast exploring what is a truly and magnificently beautiful city. Walking along broad avenues, we marvelled at the buildings and monuments, and the little side streets that seemed to branch off at every turn.
After walking awhile, we came upon Las Ramblas, the touristic hub of Barcelona, and discovered—down one of the picturesque side streets no less—a beautiful courtyard lined with bars and restaurants. After a short rest and a beer, we walked to the vibrant Mercado de la Boqueria, where we ate some cured meats with fresh bread before grabbing a couple spots at the famous little bar Pinotxo, where we enjoyed a delicious plate of baby squid with beans, and a hearty beef and potato stew, washed down with some cold Czech beer.
Feeling a pressing need to either get moving or lie down on the floor for a nap, we decided on the former and headed off at once in search of another famous location— this time, the iconic cathedral Sagrada Familia. While due to my lack of preparation and foresight we weren't able to actually go inside the thing, the unfinished crown jewel of Catalan architecture was still impressive enough from across the street, so while James attended to some business I admired the building's intricate façade.
When James had finished attending, we waited around in a Starbucks for almost an hour until it was time to go to dinner, at a place James had picked out earlier (getting used to the 9 or 10pm Spanish dinnertime has been a bit difficult). However when we got there, around 8:30, the place was barely even open, so after a quick conference we headed back to the hotel for the night, with the intention of returning the next evening at a more suitable time.