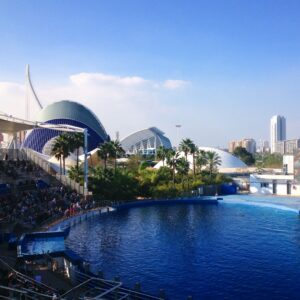 While in retrospect Valencia turned out to be a little shabbier than the other cities we visited, what it lacked in big-city bustle, daring modernism or old-world charm it more than made up for in warmth and in a surprising and genuine beauty that made the rest of our time there truly enjoyable.
For our second full day in town, we decided to try out the Oceanogràfic, touted as "Europe's Largest Aquarium" and attached to the city's central cultural complex. That complex, known as "The City of Arts and Sciences" turned out to be massive and incredibly futuristic-looking— walking through it we felt like we had stumbled into a science fiction movie— and we spent awhile admiring the architecture on our way to the aquarium at the far end. Once there, our sense of wonder turned almost immediately to disgust when we discovered that tickets to the Oceanografic were a hefty 28€, but we decided to give it a chance, so we bought them anyway. The aquarium complex was certainly large, but we ultimately found it fairly disappointing— there were exhibits from many of the seas and oceans of the world, but from the listless belugas to the rather grey palette of most of the fish exhibits, the quality and quantity of the experience just didn't live up to our expectations. The one standout, however, was the free dolphin show, and although James and I couldn't understand a word of what the hosts said, it was amazing to watch the trained dolphins pull off all kinds of impossibly acrobatic maneuvers. It was also almost as much fun watching the crowd take so much pleasure in doing "The Wave," after each cycle of which they would clap and cheer for themselves, which tickled us greatly.
We were set on getting our money's worth out of the aquarium, so we forced ourselves to stay until we were quite tired, after which we bought some dinner supplies (read: more bread, cheese, and sausage) at a nearby grocery store and then took the bus back home. James started to feel a bit under the weather, so we decided to take it easy, relaxing and watching some episodes of the 90's Canadian TV show The Newsroom before calling it an early night.
The next morning, after a bit of a lazy start, we decided to find a breakfast place to satisfy our sudden craving for bacon and eggs. The little brunch spot we settled on promised a "full English" breakfast with freshly squeezed Valencia orange juice, and while the juice was a bit tart (but not unappealingly so) it was indeed freshly squeeze, and the rest of the breakfast was delicious. Since we were already in the old centre of town, we decided to walk around after breakfast and see the sights, after which we grabbed a coffee and some churros (turns out they're well loved in Spain as well!) and sat in the beautiful square outside the City Hall. We had made reservations the previous day for lunch at a nearby restaurant (a necessity in order to have an authentic, slow-cooked paella) so we bode our time by watching the colourful mix of locals and tourists— some of whom were glaringly obvious… and oblivious— before making our way a few streets over for our meal. I thought we should attempt to eat some of the gambas, or giant prawns, that Spain is known for, so we ordered four of them as an appetizer, but man did we find them hard to eat. Without anyone to guide us or offer up any tips, we had a devil of a time getting the large shrimps out of their shells, and by the time we had managed to consume the small morsels of meat that our fingers had left intact, my appetite to try sucking the brains of the crustaceans— apparently the "best" part!—had completely left me. A little frustrated and ashamed by our failure with this first traditional Spanish dish, we nonetheless got excited when our second— the traditional Paella Valenciana— landed on our table, steaming in its iconic wide-bottomed pan. Unlike the version of the dish created with tourists in mind, our paella featured a more peasant-friendly array of ingredients such as rabbit, chicken, land snails, fava and green beans, but the star of the show (aptly so) was the rice. Chewy and full of flavour, the relatively thin layer of rice (the sign of a good paella, or so I'd read) was salty and delicious, and James and I agreed that we would have been happy even if the chef had left out the meat and vegetables altogether.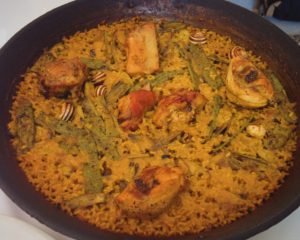 We decided to celebrate our paella conquest with chocolate truffles that the restaurant made in-house, along with a little glass of Valencian muscatel (a local, deliciously floral digestif) before heading back to our Airbnb. We knew we'd have to be up early the next day to catch our train, so once again we decided to relax and stay in for the evening, watching some more TV and chatting over some wine. The next morning we packed up our things, headed to the train station, and set our sights on Madrid!