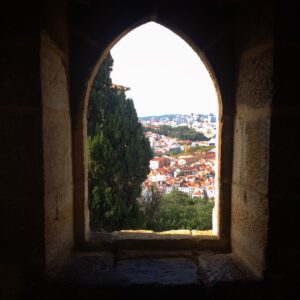 Alright everyone, brace yourselves— this one's gonna be a big one!
After one last beer at the 100 Montaditos in the airport, we boarded our plane for what was a pretty uneventful flight to Lisbon. After we landed however, things changed decidedly on that front— namely, we got lost in the airport for over an hour..
Chalk it up to asking the wrong questions, receiving the wrong directions, a lack of clear and obvious signage in the Lisbon airport, or a case of the travel brain; whatever the reason, we ended up standing in the wrong line for over half an hour, finally getting our passports stamped and walking for another five or ten minutes before realizing that we had not exited the airport at all, but were stuck in the departures terminal. We finally found someone to give us directions, went through another passport check (this time with absolutely no else one around), discovered that at the previous check we had actually been cleared to exit Portugal without even having entered it, and then finally burst out of our airport purgatory, and grabbed the subway to our Airbnb in Bairro Alto, a central district in Lisbon.
The whole reason for us being in Lisbon—and perhaps even Europe, actually— was that the city was playing host to the 2016 Web Summit, Europe's largest tech conference. One of James' friends, Ashwin, had gotten two passes to the conference, and at his invitation James had decided our trip would culminate in Lisbon, attending the conference. Ashwin had actually flown into Lisbon a little earlier in the day than us, so we headed to meet him at a little cafe before checking in to our Airbnb. I need to mention here that after getting off the subway, we had to go up at least 6 long flights of stairs. While I would have been content to do the smart thing— to let the conveniently-provided escalators do most of the work for me—James decided to take matters in his own hands (or… legs..) and decided now was the time for a forced march up several hundred feet of steps. What seemed like hours later, I finally caught my breath (after having lost it for a shamefully long time) and we met up with Ashwin, had a bite to eat, then headed off to the Airbnb. Once inside, we pressed Ashwin into service as a neutral arbiter of justice— we had him flip a coin to determine who'd have to sleep on the pull-out couch for the week (I won, and got the bed, which I took to be fitting retribution for the episode with the stairs earlier), then we kicked back and shared the bottle of wine our host had left us before heading out for a walk.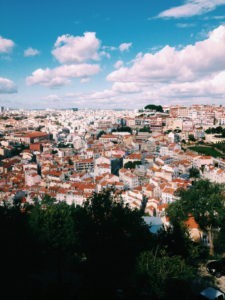 Lisbon is a crazy beautiful place. Built on "seven hills" (but isn't every other city?) and bisected by the river Tagus, it is chock-full of scenic views, beautiful courtyards, magnificent old architecture, and great places to eat and drink. Now, it may just be Bairro Alto and the old town centre, but we found unbelievable imagery everywhere, even just walking around in search of a meal. If only our first dinner in Lisbon was that good! Alas, it was fairly mediocre— we just walked up to a little restaurant in our neighbourhood and gave it a shot, but when the only people in a restaurant are tourists, that appears to be a bad sign. James and Ashwin each ordered an entree but I, not feeling terribly hungry, simply went for an appetizer of chorizo sausage. It came to the table as a ball of flame, a clay dish with the sausage resting over a pool of fiery lighter fluid. After the inferno had subsided the proprietor himself sliced it for me. We all thought he was going to slice just a few pieces off— you know, for show—but instead to our bemusement he spent two or three minutes slicing the whole. entire. thing, in complete silence no less. Despite the overly extravagant production, the sausage tasted just fine, thankfully lacking any notes of butane that might have accompanied the garlic and paprika.
The next morning, we took it easy and slept in, before heading out for brunch at a restaurant James found online. Turns out the place had a spectacular view, and provided an even more spectacular meal, with the best fresh fruit I've ever eaten at a restaurant. After taking our time and soaking it all in, we walked around a bit and continued to admire the incredible views around almost every corner before heading back to our Airbnb to plan out the rest of our day. Ashwin was interested in going to the Museum of the Orient, and James and I were more than happy to accompany him; it was down near the docks and shipping yards, and the walk there gave us a broader view of the city, including the 25 de Abril Bridge, a massive, Golden Gate Bridge copycat. Though the museum purports to give visitors a sense of Portugal's rich history of exploration and trade, the exhibitions that were open were underwhelming, and the whole permanent collection—full of treasures from all over Asia and India— was displayed in a fairly demure fashion, every piece was behind glass, against black backgrounds and black walls. After awhile, we all felt, it got a little tiresome, and we wished there had been better lighting— the pot lights made it hard to see the details in the artifacts. That said, it was a pretty pleasant way to spend a few afternoon hours; when we were done we took the subway back to our neck of the woods. With nothing much else on the agenda we decided to relax until dinner, for which we had already picked out a hip place nearby that had good reviews.
Unfortunately, when we got there (as close to Portuguese/Spanish dinner time as we could, I swear!!) we discovered that the hip place was full to the brim, and there were no tables open for the rest of the night. Disappointed but not defeated, we did some quick thinking (read: Ashwin and James took out their phones and started Googling) and settled on another restaurant called Casa do Alentejo which was only a little ways away (read: a lonnnng walk down a steep, windy hill!), and that served Alentejan food hailing from south-central Portugal. While the food was good (we had some amazing grilled sausage to start, then J and A split a baked rabbit while I had a dish with pork and fried bread), the real allure of the place was the grand building itself, which dates back to the 1700's, and is full of Moorish decor.
After dinner we walked around some more, talking as we went, but eventually in order to get back to our Airbnb we had to climb back up the way we had come down. One of the themes that would emerge during our time in Lisbon was a noticeable dislike for the steep inclines that was harboured by Ashwin and myself, which was itself countered by the annoying ease with which James would dart up them. After two weeks of trying to keep up with him, I resolved to grit my teeth and climb without complaint, but as a rookie, Ashwin did not know to bottle up his discomfort, and his occasional remarks only lead to derision from The Iron Man.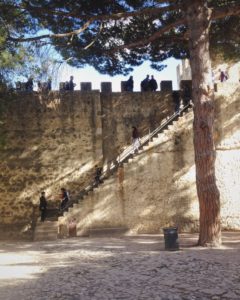 Monday brought the start of WebSummit, but because the opening festivities weren't until the evening, we decided to check out the Castelo de São Jorge, a "must-see while in Lisbon" according to the guidebook. Perched atop the city, the castle as it is today is built on top of several ruined fortifications, dating back to a Lisbon under Moorish rule (from 700 to 1100AD) and even further, to the first evidence of settlement in that area, sometime in the 2nd century BC. While the castle and its grounds were quite lovely, the view of sun-dappled Lisbon from atop the towers was simply stunning. We took our time there, talking once again about all sorts of things as we looked out over the city, before heading back down into the city once again. When we reached the busy central hub, a sort of pedestrian mall running into the city from the large, open Praça do Comércio square, Ashwin split off to look around and do some shopping, while James and I headed back in the direction of home. That evening was the opening conference pub crawl, so before meeting up with Ashwin again for that, James and I grabbed some piri-piri chicken for dinner (it was pretty great) before heading back to a bar in our area to wait for Ashwin. After he showed up, we stayed put and mingled with some other conference goers for quite awhile, until sleep started calling our names.
Over the next couple days, James and Ashwin headed off to the conference for most of the day, while I took care of some things (mostly email and trying to catch up on the blog posts— you can tell that went well….) including buying a few souvenirs, and venturing out to grab fresh buns for lunch. In the evenings, when they got back, we would grab dinner before joining the throngs of conference-goers in the midst of pub crawls around our area as we did our last night in Lisbon, or hole up in our apartment watching the US election coverage (we awoke the next morning—as did much of the world, I'm sure— to the stunning news of a Trump victory, a surprise that continued to buzz through the streets of Lisbon for the rest of our time there).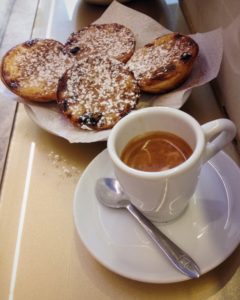 Before I wrap up Lisbon, there are two threads— two recurring experiences— that ran through this leg of the trip, that I absolutely need to bring up. The first is my epic quest to find the best egg custard tarts ("pasteis de nata") in the city, a quest I had dreamt up even before leaving Canada. I first had the things in Hamilton, Ontario, at a little Portuguese bakery, and as soon as I knew I was headed to "big" Portugal, I new I wanted to compare them to the real thing. For those who don't know, these pasteis are basically a puff pastry shell filled with rich custard, the surface of which is usually caramelized and browned by the high heat of the oven. Well, as luck would have it there was a little shop right down our street that sold only these tarts, made fresh, all day (and night) long. So every morning, I would drag Ashwin and James (the only time he had to keep up with me) down to that shop for a couple tarts and a coffee before starting our day. Let me tell you, with the caveat of not having ventured wayyy out west to the neighbourhood of Belém, where they are supposed to have originated, after having tried at least five different pasteis from across the city, those tarts from the shop down the street were hands down the best. I had a few hours of heartburn every day for my indulgence, but it was unequivocally worth it.
The second mainstay of our Lisbon trip was a Portuguese cherry-flavoured liquor called ginjinha (pronounced "jin-jin-ya") which tends to be sold from little shops—literally holes-in-the-wall— around town dedicated to selling the stuff almost exclusively. Made with sour cherries soaked in alcohol (brandy) and then liberally sweetened, this drink is delicious, and according to the Portuguese is the best way to start, well, anything— from the workday to a night of debauchery. We found ourselves in the vicinity of a ginjinha shop surprisingly often, despite the torturous flight of stairs to and from the shop closest to our apartment.
Lisbon is a marvellous place. From the unusual presence of cobblestone as a de facto paving material, to the vibrant and exciting food and nightlife scene, there were so many things that I will cherish about it, things are already tugging at me to come back someday soon. We took our time there, we didn't push ourselves to see everything— in fact, we stayed mostly within walking distance of our Airbnb, and really got to know that area well. We soaked everything in, we slept in as late as we could (despite incessant jackhammering next door that started up every day at 8am) we talked a lot, relaxed some, and through it all we enjoyed ourselves immensely. What a fitting and happy way to cap off a truly remarkable trip! I'm going to close things off in one more blog post (to come very soon, I PROMISE), but I couldn't have dreamed up a better finale than the five days we spent in Portugal. Oh, and rest assured— we made it through the airport and onto our plane to Amsterdam (for an overnight layover before heading home) without getting lost once, and this time we left the country having actually entered it!