Our first stop on our multi leg journey brought us to beautiful New York City!  The trip got off to a little bit of a slow start with one of our flights being two hours delayed and mine being cancelled all together.  Luckily I was able to find shelter for the night with a good friend and the other had a night to himself in NYC.  He hit up a couple local bars including one of NYC's oldest Irish bars McSorley's Old Ale House which first opened in the mid 19th century.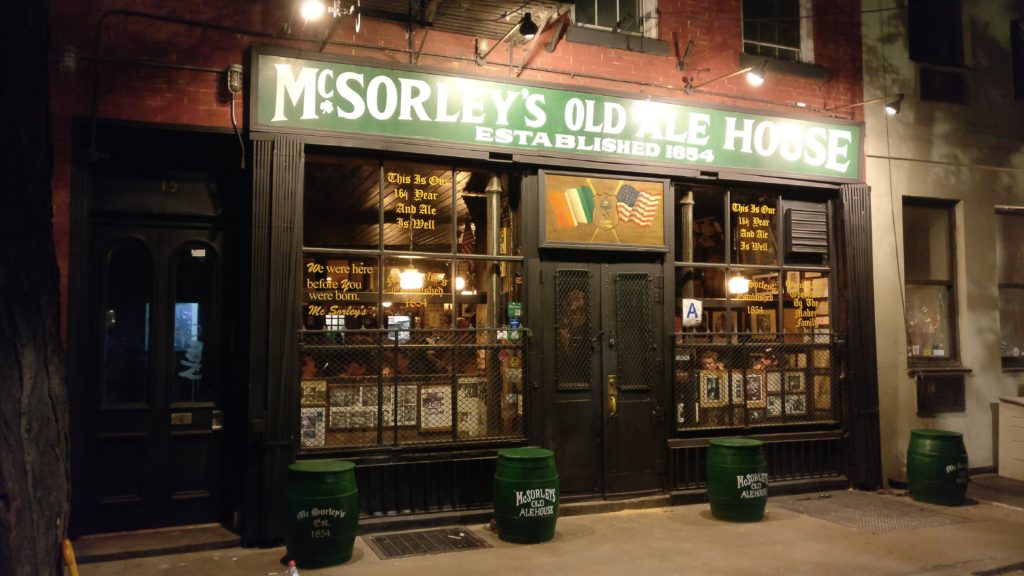 A slow start to the trip as both of us were ready to get going.
The next morning I woke up at 4:30 in order to catch my early rebooked flight.  With minimal delay and short boarder lines in Newark I was in the city by 10 o'clock and met with my travelling partner at the hotel.  Finally!  After a quick nap we started our time in NYC.
Our first stop on our informal pizza crawl was Joe's Pizza on Carmine, an establishment and staple for locals in the West Village since 1975.
We both got a cheese slice and enjoyed how they finished it again in the oven before service.  Our second stop brought us to Prince St. Pizza just a few blocks away where the pizza although still tasty was a little more sloppy and lacked the crunch we had enjoyed from Joe's.
With the temperatures before in the 30's with 'feels like' in the low 40's we felt it best to head back to the hotel for a short refresher and break from the heat.  After we had regained our strength we ventured across the Williamsburg bridge and into Brooklyn which for one of us was a first.  We had the goal of finding a sports bar to watch the World Cup and immediately realized that we were not the only ones.  Every bar we passed was packed with people with standing room at a premium.  Eventually we landed on a joint where we could watch England defeat Columbia from the street.
Once the game was over we managed to find a spot for a quick beer and then we were off to meet an old friend.  Once introductions had been made I was given a choice and decided that we should head towards Roberta's pizza in Brooklyn.  All three of us thoroughly enjoyed the two pies we ordered.  The first titled "Freak on a Leash" contained ricotta, caciocavallo, speck, pea leaf, and a cilantro garnish and the second was the "Famous Original" which has the usual mozzarella, parmesan, chili oil, and oregano.  Both were delicious!
Our last day in NYC was again very warm but at least there was not the threat of any rain.  We started the day a little later by going to Katz's deli for a pastrami sandwich and then off into the city again!
We made our way over to the Staten Island ferry and enjoyed the free shuttle to the island and back.
We enjoyed a quick beer at a patio near Wall st. and then moved on to JFK airport.  After making it through the madness that is JFK and the TSA, we found our gate and waited for our double decker 747 straight out of the 90's.  It was comfortable flight but the length made us quite stiff.  Our time in NYC was done and we were off to the next adventure!