Now that you've opened an account at Canadian crpyto currency exchange QuadrigaCX, you can receive bitcoins and/or ethereum to your hosted addresses.  If you need instructions on how to open and verify your QuadrigaCX account, so you can buy bitcoins and/or ethereum in Canada, follow this link.
A blockchain is a online decentralized ledger, and both bitcoins and ethereum run on blockchains. You can use your QuadrigaCX account to generate your own blockchain addresses where you can hold your cryptos. After you've logged into your QuadrigaCX account, find near the top of each page a horizontal menu showing the balances of bitcoins, ethereum, Canadian dollars, and US dollars in your account as illustrated by the image below.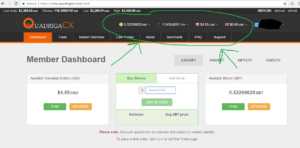 Choose your bitcoin balance from the balances menu and a drop down menu will appear showing your current balance and two choices: "Fund Account" and "Withdraw".  QuadrigaCX should re-name "fund account" with "deposit" as this is what it means, and if you click on the "Fund Account" option from the drop down menu, QuadrigaCX brings you to a page that shows your very own bitcoin address.  This is the address on the bitcoin blockchain where your bitcoins will be held.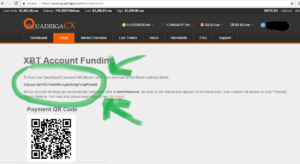 QuadrigaCX interacts with the bitcoin blockchain to create an address for you, this is what's called a "hosted wallet" because QuadrigaCX makes it easy for you to get an address and manage your transactions, but ultimately, QuadrigaCX holds the private keys, so a hosted wallet is kinda like a bank account, since there is some trust involved.
When you want to receive bitcoins to your QuadrigaCX account, simply provide your deposit address to whoever is sending you bitcoins. The counterparty will send bitcoins from their own address to yours. You can even monitor the transaction on the blockchain, go to blockchain.info and type in your address in the search bar. After searching your address, blockchain.info will display your address and any associated transactions. This way you can monitor your bitcoins as they are being processed by the blockchain.